Thanks to everyone who applied to join our Design Team. The call is still running until the middle of the week, please check this post out. I will announce the new team later in the week.
Before I get down to this week's challenge, I must ask that you please read the criteria for the challenge carefully. Well over half of last time's entries were neither a postcard nor 6x4 and sadly we had to discount some beautiful creations from the chance of winning or being awarded a top 5 spot because they failed to read what was required before entering.
This week our challenge is hosted by Marie and she would like to see Winged Things.
Let your imagination run wild, it could be a bird, an angel, an insect and you can use stamps, die cuts, digital images in fact anything as long as it has wings.
********************
Please check the rules in the right-hand sidebar before entering. Thank You
********************
We are kindly sponsored for this challenge by The Stampman (and Lady of course!) who are offering the winner a £10 voucher for their store, you can spend this online, in the shop or if you're lucky enough to see them at a show! They have a ton of items in store, enough to tickle any crafty taste bud.
We are also sponsored by
With a $10 prize for her store
I have been drawing since a child and studied graphics at College many years ago, I now work as a Medical photographer part time but my love was always drawing. I started cardmaking about 4yrs ago when I bought my daughter a cardmaking kit which we did together, but I'm afraid I got the bug! My daughter preferred scrapbooking. I then started looking online at other blogs and this then became my passion and I loved sharing my cards with like-minded people.
I love stamping and loved finding images, but sometimes I could not find what I wanted so I started to draw myself.
This then has become my second addiction and I have never looked back, I love thinking of new images, and its just fabulous to see others take them and make them into beautiful works of art. Long may it continue!
Here is what the team have come up with.
I used my Cameo to cut the angel shape and used the negative as the base, the little image was gold embossed with SU powder and then replaced over the top. On the edge die for the side panel embossed and matted onto black card, sentiment computer generated.
My card is a textured ivory base, stamped with butterflies and utilising a printed image from a Debbi Moore shabby chic cd. It features a decoupaged butterfly, flitterglu and gilding flakes, and I used scattered straw distress ink pad.
Oh, I do love fairy images! It's from Crafter's Companion, and I've coloured it with Derwent Coloursoft pencils, and added some Kate Knight paper, some Spellbinder die cuts, punched flowers, and beads.
I decided to go with some Stampin' Up stamps and matching paper for this challenge. The stamp set is called Nature's Walk and the paper is Botanical Gazette. Lots of wings here.
I have made a tag using my home made stamped base card and a Bird Cage die cut..
I collage stamped some images and then stamped a second set of butterflies, fussy cut them out, and popped them up with foam squares to create dimension.
For my card I have used a Pergamano stamp coloured with ProMarkers and all of my papers are from Papermania "The Little Cake Shoppe" pack.
The inspiration for my card came from this gorgeous butterfly paper from DCWV's Safari Chic pad. The butterfly and flower were cut using Spellbinders!!
I used my new image Tilda dancing with stars - she is so cute. The paper is from PION Design and I used for my christmas card a lot of doohickeys die cuts (Magnolia)
I used an Artemio stamp set and some Frantage Embossing Enamel. Plenty of Dragonflies here.
I used Papertrey Ink's "Wise Owl" stamp set to create a CAS card using "New Leaf" papers from First Edition.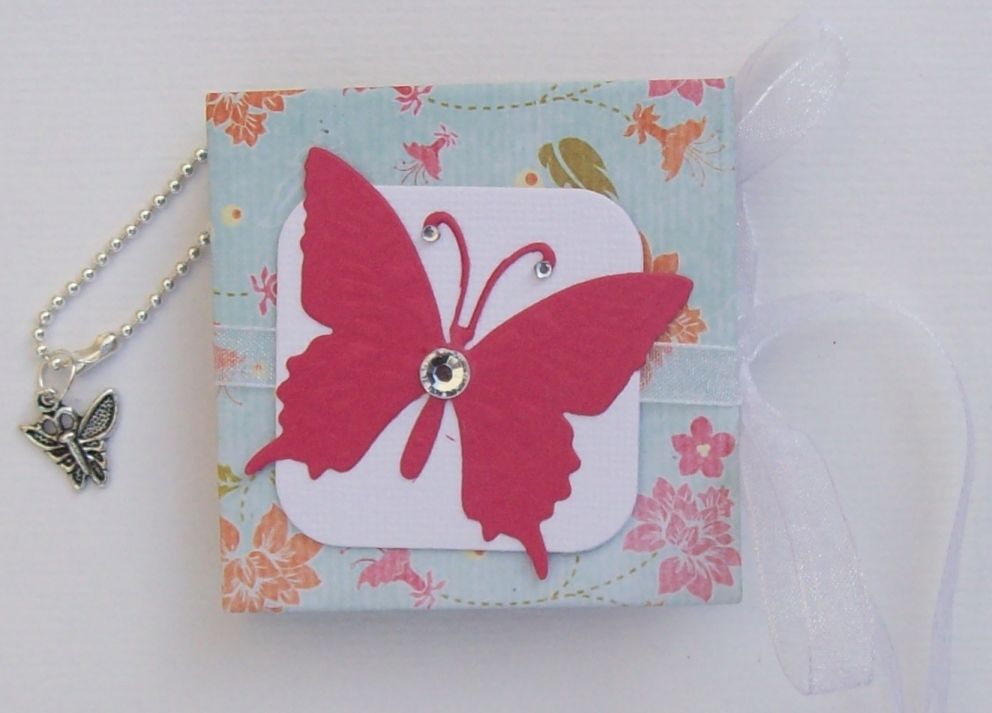 I used butterfly die cut from Kreaxions And made a Mini Key Chain Accordion Album. 6 x 6 cm inside 5 x 40 cm ...Paper I bought in the netherlands.
Now over to you, and don't forget it must have wings!